Takeyasu Sawaki verspricht baldige Nachrichten.
In der letzten Hardwaregeneration der Konsolen erschienen überraschend viele wie gute Ausreißertitel, die neben den riesigen Entwicklungen für gewitzte Abwechslung auf HD-Ready-TVs sorgten. El Shaddai: Ascension of the Metatron von Takeyasu Sawaki reiht sich in diese Palette der eher künstlerisch anspruchsvollen Spiele, die neben gelungenen Gameplay speziellere Thematiken verarbeiten und audiovisuell einen eigenen Stil entwickelten. Nun versprach Takeyasu Sawaki auf der Entwicklerkonferenz Tokoy Sandbox 2017, Neuigkeiten über ein kommendes Projekt in den kommenden zwei Wochen preiszugeben. Der El Shaddai Macher entwickelt ein neues Werk.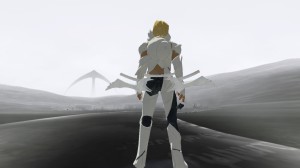 Foto: Konami/Crim
Nektar und Ambrosia für Auge und Ohr – El Shaddai.

Gematsu.com hat die Aussagen Takeyasu Sawakis in verschiedenen Medien aufgeschnappt, dass er auf der gerade stattfindenden Entwicklerkonferenz Tokyo Sandbox 2017 gesagt habe, Details über sein in Entwicklung befindliches Werk in den kommenden zwei Wochen preisgeben zu dürfen. Der sich gerne mit mystischen Themen auseinandersetzende Entwickler betonte dabei, dass es sich nicht um einen Indietitel handle, sondern eine große Ankündigung zu erwarten wäre. Interessant ist dabei die Veränderung im Besitztum, da sich die Firma Crim bereits in 2013 die Rechte an El Shaddai: Ascension of the Metatron von Ignition Entertainment zurückgekauft habe, die damals von Sawakais geführt wurde und weitere Schritte mit der Marke plante. In zwei Wochen weiß die Welt wieder etwas mehr, doch die erneute Übertragung eines sieben Jahre alten Trailers des Games vor zwei Tagen – während Takeyasu Sawakis Vortrags auf der Entwicklerkonferenz in Japan – lassen die eingeschlagene Richtung des El Shaddai Machers doch vielleicht schon durchschimmern.
Sieben Jahre alte Kunst – El Shaddai HD Trailer.
Reelle Prophezeiungen erwünscht!