Vice President of Sales
Nintendo hat einen neuen Vice President of Sales engagiert.
Dieser hatte zuvor bei EA eine ähnliche Postion, wo er als Vize Präsident der globalen Geschäftsplanung dienlich war.
Das amüsante daran: der gute Mann heißt Bowser – genauso wie Super Marios Erzfeind.
Bowser wird Boss.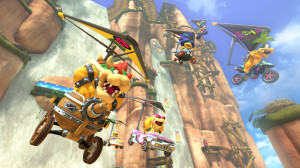 Foto: Nintendo
Nun von der dunklen Seite geführt – Bowser übernimmt.

Wie es über BusinessWire.com gestern die Runde machte, hat Big-N den ehemaligen Electronic Arts Angestellten Doug Bowser angeheuert, die Postion des Vize Präsidenten im Vertrieb Nintendos zu übernehmen.
Hier soll er sich um die Verbesserung der Marktlage aller Geschäftsfelder in den USA kümmern können und sich auf Vertrieb, In-Store Merchandising, Strategien für den Handel und Marketing im Allgemeinen konzentrieren.
Da Doug Bowser bereits seit 2007 erfolgreich für EA in ähnlichen Geschäftsfeldern tätig war, glaubt sein zukünftiger Boss Scott Moffit, Leitender Geschäftsführer für Verkauf und Marketing bei Nintendo, dass ihm sein neuer Untergebener unerschöpflich, mit viel Elan und Wissen, bei Seite stehen werde, um mit internen wie externen Partnern, ein breitgefächertes Angebot für Nintendo abzusichern, das in den USA – mit starker Präsenz – auf sich aufmerksam machen können wird.
Ein teuflischer Plan – EA's Bowser in der Chefetage von Big-N.