Überraschende Liebesliste
Das Time-Magazine gilt wohl auch heute noch als ein besonders glaubwürdiges Printmedium der alten Schule. Da natürlich auch dort die modernen Internet-Zeiten angekommen sind und sogar Videospiele regelmäßig in nähere Betrachtung geraten, hat die alte Zeit-ung zum Ende des Jahres nun die besten Games der vergangenen 12 Monate gewählt.
Das Time Magazine wählt die besten Spiele 2015.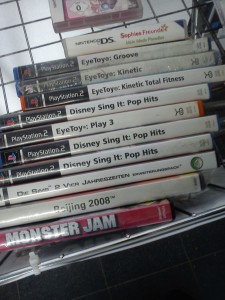 Foto: mze
Immer schön Spiele betrachten – Kultur kommt nicht von alleine.

Alle Konsolen-Systeme, der PC und sogar Android/IOS-Plattformen wurden in den Kreis der Wahlberechtigen geholt und deren verfügbare Software auf Qualitäten überprüft.
Trotz großer Konkurrenz konnte sich Nintendo zweimal einen Platz angeln, andere Hit-Hersteller – die auch Spiel-Systeme vertreiben – bekamen keine Chance sich positiv zu profilieren.
Die Gewinner des Time-Magazine Game of the Year 2015 lauten wie folgt:
10. Splatoon (Nintendo)
9. Undertale (Tobyfox)
8. Batman: Arkham Knight (Warner)
7. Ryan North's To Be or Not to Be (Studio Tin Man Games)
6. Super Mario Maker (Nintendo)
5. The Witcher 3: Wild Hunt (CD Projekt Red)
4. Her Story (Sam Barlow)
3. Metal Gear Solid V: The Phantom Pain (Konami)
2. Rise of the Tomb Raider (Square Enix)
1. Prune (Joel Mcdonald)
Natürlich lassen sich auf der eigenen Web-Präsenz genauere Erklärungen für die entsprechende Platzierung des jeweiligen Gewinner-Titels finden, weshalb auch ein Besuch der englischsprachigen Webseite als empfehlenswert erachtet werden könnte.
Überraschend, dass der verbugte Batman trotz PC-Desaster und wenig Abwechslung im Gameplay in die Wahl genommen wurde; überraschend, dass das aktuell auf Xbox exklusive Tomb Raider einen derartigen Ritterschlag erhalten hat; überraschend, dass das wohl beliebteste Spiel des Jahres nur den fünften Platz besteigen konnte, während die aktuellen Spieler-Highlights – Star Wars: Battlefront und Fallout 4 – vollständig übergangen wurden.
Von Bloodborne auch keine Rede.
Xenoblade Chronicles X bekam aber schließlich auch wieder keine Chance.
Klingt recht fair.