It won't stop thinking!
Während der aktuelle Softwaremarkt kaum bleibende Klassiker generiert noch die hochtrabenden Versprechungen gigantischer Produktionen spürbar ausspuckt, regt sich auf dem Retrosektor eine ganze Horde von Publishern, die alte Systeme aktiv mit neuen Spielen versorgen. Neben dem vielversprechenden Paprium für Sega Mega Drive erscheinen sogar überraschende Veröffentlichungen für Super Nintendo und nun sogar erneut für das wohl beste Spielsystem aller Zeiten. Noch mehr Dreamcast-Spiele in 2017.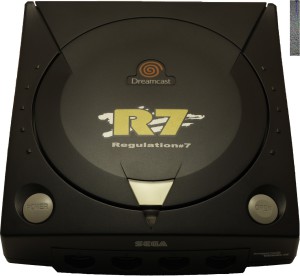 Foto: mze
R7-Dreamcast freut sich auf neues Pal-Futter.

Da Vorbesteller bereits ungeduldig auf ihre Fassung der ersten eigenständigen Indie-Polygon-Entwicklung Xenocider warten könnten, dürfen diese hartgesottenen Dreamcast-Freunde ihre Zeit bis zum Erhalt mit neuen Bestellungen überbrücken, die vor Kurzem für die zuletzt erschienene Sega-Hardware in die Pipeline geschickt wurden. Via RushonGame.com können seit dem 04.08.2017 Vorbestellungen für verschiedene Releases abgegeben werden, die bekannte Namen beinhalten. So erscheinen Flashback, Ganryu und Sturmwind in einer Pal-Fassung samt authentischer Verpackung und Anleitung zusätzlich zu den Games Breakers, Alice Moms Rescue und dem Open-World-Rennspiel 4×4-Jam. Zia and the Goddesses of Magic soll auch noch erwähnt sein.

Sieben von zehn – fehlen noch drei – zur vollen Dreamcast-Spielerei.
Auch wenn Flashback auf nahezu jedem namhaften Gerät in der weiten Vergangenheit bereits erschien, mit Ganryu ein NeoGeo-Hochgenuss günstig portiert wird und mit Sturmwind ein besonders hochwertiges Indie-Spiel erneut für Dreamcast veröffentlicht wird, können sich Sammler und Spieler der Dreamcast-Maschine in diesem Jahr die Hände reiben. Softwaremangel für ein seit 16 Jahren auf dem Abstellgleis geparkten System sieht definitiv anders aus. Das DC mischt dagegen fast wirklich noch mit.
Schande für andere.