Eine neue Rekordsumme für ein altes Videospiel.
Das Sammeln von Videospielen bleibt eine beliebte Angelegenheit. Zocker mit genügend Kleingeld und dem Wunsch nach dem Besitz ihrer liebsten Videospiele scheint es dazu auch genug zu geben, sodass in den letzten Jahren eine gewaltige Preissteigerung in dem Segment wahrzunehmen war. Nun hat Heritage Auctions mit der Versteigerung eines N64-Klassikers einen neuen Rekord bezüglich der bezahlten Höchstsumme für Games eingefahren, nachdem Super Mario 64 für eineinhalb Millionen Dollar versteigert werden konnte. Sealed und gegradet.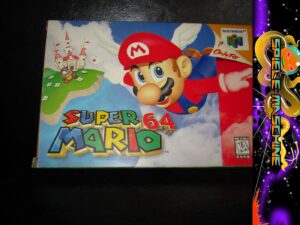 Foto: mze
Super Mario 64 für eineinhalb Millionen Dollar versteigert.

Schon so manches Mal wurde die Grenze von einer Million Dollar beim Einkauf von alten Videospielen überschritten. Zuletzt machte wohl ein amerikanischer Zahnarzt auf den Sammlerwert von Videogames aufmerksam, als er für knapp 40 NES-Spiele die magische Grenze überschritt. Nun hat es erneut der Nintendo-Held Super Mario geschafft, da sein N64-Debüt für eineinhalb Millionen Dollar via Heritage Auctions den Besitzer wechselte. Das mit einer Wata-Wertung von 9.8 versehene und eingeschweißte Game soll eines von weniger als fünf bekannten Exemplaren sein, das in diesem herausragenden Zustand in Sammlerhänden schlummert. Genau 1.560000 Dollar wurden von einem reichen Sammler für Super Mario 64 auf Heritage Auctions gelöhnt, was einen neuen Rekord beim Versteigern von Videospielen darstellt. Es handelt sich bei dem besagten Spiel um die US-Fassung für das Nintendo 64, was wohl davon ausgehen lässt, dass es sich beim Käufer möglicherweise auch um einen Amerikaner handelt. Die NTSC-Version von Super Mario 64 strahlt im Gegensatz zur Pal-Fassung mit 60 Bildern in der Sekunde, auch wenn das eingeschweißte und gegradete Spiel wohl kaum jemals zum Einsatz kommen wird. Nur wenige Tage vor dieser Rekordsumme spielte der andere Lieblingsheld Nintendos namens Link einen Rekord mit seiner frühsten Erstveröffentlichung auf dem NES ein. The Legend of Zelda für das Nintendo Entertainment System konnte am 09.07.2021 dank eines 9.0-Grading einen Betrag von 870000 Dollar für seinen ehemaligen Besitzer generieren.
Für derartige Preise trennt man sich wohl recht schmerzfrei von seinen einst heiß geliebten Sammlerstücken.