The King of Fighters Returns!
Der Hersteller der NeoGeo-Konsole ist ein ganz besonderes Konsolen-Urgestein.
Gerne sagte man den Herren von SNK Nähe zur Yakuza nach, gerne spielte man an der Advanced Home Entertainment Konsole ausgesprochen aufwendig produzierte 2D-Bitmap-Games.
Die wirtschaftlichen Schwächeanfälle zur Jahrtausendwende forcierten jedoch eine Fusion durch den eigentlichen Gründer in SNKPlaymore und beendeten die große Karriere der Prügelspiel-Experten.
Jetzt ist SNK zurück – The King of Fighters Returns!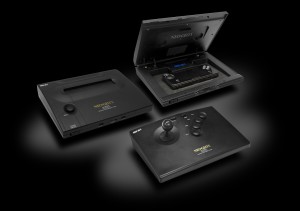 Foto: Blaze Europe
SNKs NeoGeo AES gibt es sogar als offiziellen Nachbau.

Heute wurde via Twitter die bedeutsame Nachricht ins Volk geschüttet, dass sich SNKPlaymore auf die alten Tage besinne und den Schritt zurück zum eigentlichen Konzernnamen gehen werde.
SNKPlaymore ist nun wieder SNK.
Freunde der japanischen Sonderlinge sind daher aus dem Häuschen und erhoffen sich ein schnelles Wiedererstarken des ehemaligen Prügel-Primus.
Dass man in den vergangenen Jahren – ohne eigene Hardware – das eigene Können jedoch nicht verlernt hat, beweist SNK in den neusten Trailern der 14. King of Fighters Adaption.

KOFXIV im Trailer – 60FPS und Full HD einschalten.
Mit King of Fighter XIV bekommt die PS4 ein weiteres Versus-Fighting-Game in der aktuellen Prügelspielwelle, das sich vor den bekannteren Konkurrenzprodukten nicht verstecken muss.
Besonders die Anzahl von 48 Kämpfern – von denen viele bereits aus Bitmap-Tagen in Spielerherzen wohnen – dürfte neben der saftigen Präsentation einige Martial-Arts-Videogamer anlocken dürfen.

KOFXVI nun auch mit Mai Shiranui – und 47 weiteren Kämpfern.
Der neuste gezeigte Zugang in der Kämpferriege – Mai Shiranui – dürfte dies ebenfalls erreichen.
Besonders erfreulich ist in der flotten Darstellungsqualität bereits heute, dass die fein modellierten Polygonmodelle eine unmissverständliche Erinnerung an die alten Tage wachrütteln.
The Future is now.
SNK ist zurück – The King of Fighters Returns!