Die Verschiebung des zeitlichen Verschubs.
Shenmue III ist für viele Menschen das kommende Highlight. Vierzehn Jahre mussten Fans warten, eine Fortsetzung Gestalt annehmen zu sehen. Eigenes Kapital wurde in Freude auf ein Wiedersehen mit Ryo Hazuki in die Herstellung via Crowfunding investiert, damit Shenmue III Realität wird und die Erwartungen erfüllen kann. Doch schon der erste angepeilte Releasetermin musste nach hinten verlegt werden, was noch mit Verständnis aufgenommen wurde. Jetzt gibt es nach Monaten der Funkstille – sowie ausgesprochenen Garantien, dass das Game noch in diesem Jahr erscheinen werde – die nächste Hiobsbotschaft. Obwohl mehr Zeit, ein nachträglich an Board gebrachter Publisher und Fremdstudios die Arbeiten erleichtern sollten, wird es mit der Veröffentlichung in 2018 nichts mehr. Shenmue III erscheint erst 2019.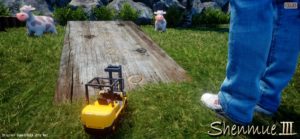 Foto: Ys Net
Das Warten auf Shenmue III nimmt kein Ende – since 2001.

Leider – muss man sagen – erhielten heute die Unterstützer der Kickstarterkampagne nach einigen ruhigen Wochen Funkstille erneut elektronische Briefpost vom Ys Team, die einen weniger schönen Inhalt enthielt. Eine Mitteilung von Deep Silver – dem nachträglich ins Boot geholten Publisher – verrät die traurige Nachricht, dass man sich zur erneuten Verschiebung des Veröffentlichungstermins von Shenmue III entschieden habe.
"Hello Everyone,

Along with our publishers, Deep Silver, we have an announcement for the release date of Shenmue III. Our report follows with a comment from Mr. Suzuki.

Announcement by Deep Silver:

" Deep Silver today announce that their upcoming release Shenmue III has been moved and will now release in 2019.

The extra time will be used to polish the quality of the game even further, to the high standards it deserves and release the product in the best possible timeframe. "

Original Announcement: Deep Silver

Comment by Yu Suzuki:

To all of our backers, we are very sorry for the delay. After much discussion with our partners, Deep Silver, we have concluded that extending the release will allow us to deliver Shenmue III at its best. We promise to use this time to improve the quality of Shenmue III.

We cannot thank you enough for your enduring support."
Da Deep Silver zwar auch von Verbesserungen der Qualität spricht, jedoch das Produkt in dem bestmöglichen Zeitrahmen veröffentlichen möchte, scheint der Ausgang der seitens Yu Suzuki angesprochenen Diskussion mit dem Verleger nicht ganz im Einklang gefunden worden. Ein überraschend kurzes Versprechen vom japanischen Mastermind, die Zeit für Qualitätsverbesserungen zu nutzen, überzeugt die teils mit hohen Summen im Projekt involvierten Unterstüzer nur bedingt. Ein Release an Weihnachten 2018 war schließlich auch schon nach einem gebrochenen Versprechen versprochen worden …
Don`t promise, what you can't keep, Suzuki-San.