Video zeigt die Fortschritte der Arbeiten.
The Legend of Zelda: Ocarina of Time zählt auch heute noch zu den besten Spielen der Vergangenheit und darf mit wohlwollen zu einem der wichtigsten Titel der Welt gezählt werden. Als das Action-Adventure 1998 für das Nintendo 64 erschien, konnte es als Blaupause für alle darauffolgenden Abenteuer-Games betrachtet werden, da sich nahezu jeder Hersteller anschließend an der Struktur orientierte. Auch Jahre später konnte das Werk noch begeistern, als es beispielsweise in einem Remake für Nintendos 3DS-Handheld erschien. Das Game wird auch 22 Jahre nach Release noch von Fans als etwas ganz Besonderes betrachtet, sodass es nicht wundert, dass sich Menschen an die Arbeit machten, es in neuem Glanz erstrahlen zu lassen. Jetzt hat man das in heimischer Produktion befindliche Unreal-Engine-Remake mit neuen Daten gefüttert, damit kleinere Fehler ausgebügelt werden. Ocarina of Time in Unreal Engine erhält neuestes Update.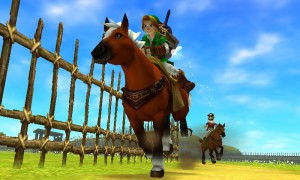 Foto: Nintendo
Ocarina of Time in Unreal Engine erhält neuestes Update.

Der Bastler CryZENx hat für das in Unreal Engine 4 hergestellte Remake des N64-Klassikers The Legend of Zelda: Ocarina of Time ein neustes Update veröffentlicht, welches Verbesserungen und kleine Veränderungen in die Fan-Produktion bringt. Auch ein neues Areal wurde mit Update 6 hinzugefügt, über das der fleißige Zelda-Jünger in einem Playthrough-Video Auskunft gibt. Grafisch erstrahlt das wohl wichtigste Zelda-Spiel der Vergangenheit in neuem Glanz, das die matschigen Texturen der N64-Version vergessen lässt. Das 2.9 Gigabyte große Update 6 kann auf dem Discord-Server des Hobby-Programmieres heruntergeladen werden, falls Interessierte Lust am Ausprobieren via PC bekommen sollten. Hier kann man es Downloaden. Selbst wenn überkandidelte Zelda-Fans mit dem Style nicht unbedingte Freundschaft schließen sollten, darf mit Überzeugung betont werden, wie gut das Ein-Mann-Projekt funktioniert und wie hübsch es im Vergleich zum alten Original geworden ist.

The Legend of Zelda: Ocarina of Time FanProjekt Update 6
Fraglich dürfte hingegen nur sein, wie lange Big-N das Treiben gestatten wird und wann man der privat stattfindenden Arbeit einen Riegel aufgrund von Rechtsverletzungen vorschiebt.
Wohl nur eine Frage der Zeit.