19 Weltpremieren für kommende Videospiele gezeigt!
Die Game Awards haben auch in diesem Jahr einige Überraschungen parat gehalten. Die Gewinner der Game Awards 2021 wurden ordentlich zelebriert, einige Stars unterhielten das Publikum musikalisch und natürlich ließen es sich viele Entwickler und Publisher nicht nehmen, einen Ausblick in die Zukunft der Branche zu servieren. Alle Neuankündigungen der Game Awards 2021 waren Weltpremieren, die zuvor noch nicht der Öffentlichkeit gezeigt wurden. Nun kann man sich nachträglich an den gezeigten Schnipseln ergötzen, die aus 19 kommenden Spielen für die Zuschauer alle Zocker der Welt zusammengeschnitten wurden.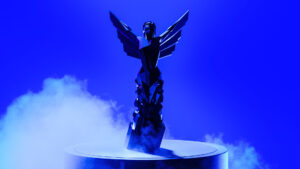 Foto: GameAwards.com
Vielleicht erhalten die Neuankündigungen auch einmal einen Preis.

Neue Konsolen machen neue Spiele nötig. Mit PS5- und Xbox-Series-Systemen erreichen Games schließlich eine neue Sphäre der Darstellungsqualität. Bislang wird zwar oft noch mehrgleisig gefahren, doch im nächsten Jahr dürfte sich die neuste Generation langsam von den alten Geräten abzusetzen versuchen. Somit ist es von großem Interesse, was Zocker auf den High-End-Konsolen und aufgezüchteten PCs in der nächsten Zeit erwarten dürfen und wie die Gestaltung der modernen Videospiele aussieht.

IGN.com hat alle Neuankündigungen der Game Awards 2021 in ein einziges Video verfrachtet.
Hier noch die Liste aller auf dem Event angekündigten Videogames:
• Alan Wake 2 from Remedy Entertainment
• Among Us VR from InnerSloth
• ARC Raiders from Embark Studios
• Dune: Spice Wars from Shiro Games
• Have A Nice Death from Magic Design Studios
• Homeworld 3 from Blackbird Interactive
• Nightingale from Inflexion Games
• Rumbleverse from Iron Galaxy
• Slitterhead from Bokeh Game Studio
• Somerville from Jumpship
• Sonic Frontiers from Sonic Team and Sega
• Star Trek: Resurgence from Dramatic Labs
• Star Wars Eclipse from Quantic Dream
• The Expanse from Telltale Games
• The Matrix Awakens from Epic Games
• The Texas Chainsaw Massacre from Gun Media
• Thirsty Suitors from Outerloop Games
• Warhammer 40,000: Space Marine 2 from Fatshark
• Wonder Woman from Monolith Productions
(Quelle: Gamerant.com)
Die vielleicht größte Überraschung bei den Neuankündigungen der Game Awards 2021 könnte die Tatsache darstellen, dass selbst bei modernen Grafiken, die ein Pre-Rendern von Sequenzen eigentlich mittlerweile unnötig machen, Hersteller oft weiterhin auf vorberechnete Filmsequenzen setzen, die nichts vom eigentlichen Gameplay vermitteln.
Voll Retro!