Ein The Legend of Zelda Tribut.
Da seit gestern das Remake von The Legend of Zelda: Twilight Princess erhältlich ist, hat Google wohl vor lauter Freude Nintendo einen Gefallen getan. Auf der viel genutzten Internet-Karte befindet sich nun der bekannte Nintendo-Junge mit der grünen Zipfelmütze anstatt des üblich gebrauchten gelben Männchens des Google-Konzerns.
Link auf Google-Maps.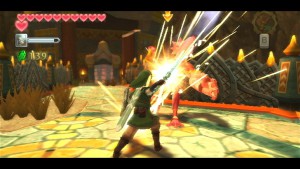 Foto: Nintendo
Mit Schwert und Schild – Link unterwegs auf Wii.

Zumindest auf der US-Version der Suchmaschinen-Karte haben alle Nutzer nun einen kleinen Link auf Google-Maps zur Verfügung, der zur Ortsbestimmung auf den gewünschten geographischen Fleck gesetzt werden kann – virtuell via Maus.

Foto via aolcdn.com
Mit Schwert, Schild und Zipfelmützchen – Link auf Google-Maps.
Fünf Tage lang bleibt dieser charmante Scherz erhalten, bis The Legend of Zelda: Twilight Princess auch in Japan erhältlich ist.
Dort müssen sich Spieler noch bis zum 10.03.2015 gedulden, bevor sie erneut das Pferd Epona besatteln und Hyrule vor dem Untergang retten können.
Dass die wegweisende Action-Adventure-Reihe nun bereits seit über dreißig Jahren zu dieser Aufgabe ruft, wurde dagegen bisher nur in kleiner Weise öffentlich zelebriert – weshalb die gerechtfertigten Geburtstagswünsche jetzt nachträglich nicht fehlen dürfen: Happy Birthday Link!
Am 21.02.1986 erschien der sagenhafte Held Link erstmalig auf dem Famicom Disk System in Japan und erschuf im bisherigen Laufe seiner drei Dekaden dauernden Karriere komplette Blaupausen für nachfolgende Spiele-Entwicklungen.
Link auf Google-Maps ist daher wohl nur ein weiterer, kleiner Geburtstagsscherz im bewegten Leben des Helden aus The Legend of Zelda, der im fortschreitenden Ablauf von 2016 noch richtig laut gefeiert werden müsste.
Celebrating Legends.