Is the BBC bolloks?
Schon bevor die eigentlichen Dreharbeiten begannen, war Rockstar Games Chefetage nicht besonders von der Idee angetan, einen Doku-Unterhaltungs-Film vom BBC über die eigene Entstehungsgeschichte aufgedrückt zu bekommen.
Sogar rechtliche Schritte wurden angedroht – sollten Markenrechte verletzt werden – die das ganze Werk hätten verhindern können.
Doch nun lief das Filmchen; und Rockstar is not happy with The Gamechangers.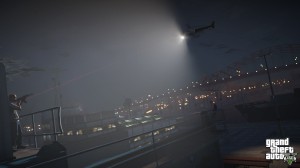 Foto: Rockstar Games
Rockstars im BBC – falsch beleuchtet laut Beteiligten.

Die unter anderem auch mit Daniel Radcliffe besetzte Show, zeigt den Aufstieg der kleinen Software-Produktionsfirma, die sich dank GTA-Dauerbrennern zu einem der wichtigsten Produzenten im digitalen Unterhaltungssegment entwickelte.
Auch die auftretenden Probleme in der Öffentlichkeit, die vor allem durch einen US-Anwalt während verschiedener Situationen gegen die englischen Mannen verwendet werden wollten, seien in der Doku-Show näher behandelt.
Nach der gestrigen Austrahlung der TV-Produktion im englischen Haus-und-Hof-Sender, meldete sich Rockstar Games jedoch über Twitter zu Wort, um den BBC auf die nicht ganz wahrheitsgetreuen Inhalte anzusprechen. Ob ein Basil Brush zu beschäftigt sei, um auch noch in der Show mitzuspielen, fragten die Briten einfach neckisch nach. Was dieser zusammengewürfelte Unsinn solle, ebenso.
Wer das Internet über eine englische IP besucht, kann sich vom Fehlen des fröhlichen Fuchses aus dem britischen Kinderprogramm bei "The Gamechangers" selbst überzeugen.
Nach der Ausstrahlung wurde die 89-minütige Sendung auf dem BBCIPlayer für alle virtuellen Inselbewohner verfügbar gemacht.
The Gamechangers – ohne Basil Brush – dafür jetzt, mit leicht beleidigten Rockstars.
Die schaut man sich besser mal an.