Unseen 360
Eines der bekanntesten Xbox360 Exklusiv-Spiele, dürfte Alan Wake darstellen. Das Survial Horror Abenteuer, um den Horror-Autor Alan Wake, wurde zwar auch für den PC umgesetzt, doch besonders Xbox-Spieler wünschten sich lange Zeit einen Fortsetzung des eher enttäuschenden Erstlings.
Nun ist ein Video von Remedy über Polygon veröffentlicht worden, das einen Konzeptentwurf des möglichen Nachfolgers zeigt.
Alan Wake 2 Video.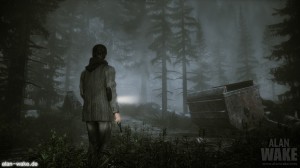 Foto: Microsoft
Teil 1 bot wenig des Versprochenen – Alan Wake.

Technisch machte bereits Alan Wake eine ordentliche Figur, weshalb die nun gezeigten Bilder einen noch besseren Eindruck hinterlassen.
Auch hat sich einiges innerhalb der Schlauch-Level getan, so dass nun ein Eindruck einer offeneren Spielwelt vermittelt wird.
Ebenso lassen sich Spielelemente finden, die wohl nun in das nächste Spiel der Remedy-Studios eingeflossen sind. Quantum Break.
In einem Moment des Ausschnittes, scheint die Zeit in der Umgebung stillzustehen, während sich der Protagonist weiterhin ungehindert bewegen kann.
Ansonsten lag das Hauptaugenmerk offensichtlich in einer verbesserten KI-Gegnersteuerung, die wohl mit feinen Details gepunktet hätte.
So schmeißen die Schattengegner verschiedenste, aufgesammelte Gegenstände, während die Interaktion zwischen den jeweiligen Objekten offensichtlich deutlich erhöht wurde.
Selbst Türen lassen sich von den Gegnern aus Autos reißen.
Ein untoter Feuerwehrmann greift beispielsweise eine Schaufel, die zuvor von einem anderen Widersacher mit Wucht in die Karosserie eines Automobil geschleudert wurde, um sie anschließend gegen den Hauptcharakter einzusetzen.
Ebenso wollte das Entwicklungsteam einen sauberen Bogen zwischen Fiktion und Realität spannen, der die wirren Möglichkeiten einer nicht gebändigten Phantasie aufzeigen sollte.
Interessante Ansichten aus dem Leben eines Horror Autors also.
Unseen 360 – The Power of Fiction in Alan Wake 2.