Output des legendären Studios näher betrachtet.
Passend zu den kürzlich getätigten Aussagen des Rare Ltd. Bosses Craig Duncan, jährt sich heute die Übernahme des englischen Edelstudios, das am 24.09.2002 von Nintendos zu Microsofts Besitztum wurde. Die Übernahme des Herstellers bekannter Welthits sollten beweisen, wie ernst es dem Redmonder Windows-Konzern mit dem Einstieg ins Konsolengeschäft via Xbox war und zeitgleich weitere Spitzentitel nun für dieses System exklusiv absichern. 15 Jahre Rare bei Microsoft zeigen jedoch leider ein etwas anderes Bild bei Rückbesinnung auf vergangene Heldentaten.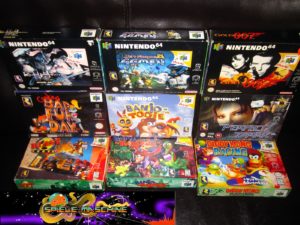 Foto: mze
Fünf Jahre viele Hits – 15 Jahre keinen echten: Rare.

So löblich wie das Statement gegen alberne HD-Aufgüsse altbekannter Hitspiele seitens des derzeitigen Rare Bosses Craig Duncan auch sein mag, so wenig vorzeigbare eigene Kracher kann das ehemalige Superstudie Rare eigentlich vorweisen, seitdem man von Nintendo an Microsoft verkauft wurde. Während unter der Führung des japanischen Konzerns technische und spielerische Highlights teilweise im Halbjahrestakt erschienen, sitzen Rare-Fans seit dem getätigten Einkauf von Microsoft in Warteposition, da der zu erwartende Superkracher bis heute nicht auf einer Xbox-Konsole von Rare herausgebracht werden konnte. Vergleicht man den Output des englischen Entwicklerteams auf Nintendos N64-Konsole – die von 1996 bis 2001 Unterstützung fand – mit den Releases auf drei verschiedenen Microsoft-Systemen, sind weitere Worte über den kläglichen Abstieg unnötig.
Während in nur fünf Jahren alleine auf N64 folgende Welthits und wegweisende Spieleklassiker erschienen:
– 007 Goldeneye
– Banjo – Kazooie
– Banjoo – Tooie
– Blastcorps
– Conker's Bad Fur Day
– Diddy Kong Racing
– Donkey Kong 64
– Jet Force Gemini
– Killer Instinct Gold
– Mickey's Speedway USA
– Perfect Dark
sind in den vergangenen 15 Jahren nur noch diese oft eher mäßigen Softwaretitel auf drei aufeinanderfolgenden Xbox-Konsolensystemen veröffentlicht worden:
– Conker – Live & Reloaded (– ein N64-Remake)
– Grabbed by the Ghoulies
– Kameo – Elements of Power (– abgeschlossene N64-Entwicklung)
– Perfect Dark Zero
– Viva Pinata
– Viva Pinata – Trouble in Paradise (Update des Erstlings)
– Banjo – Kazooie – Nuts & Bolts
– Killer Instinct (– only season one)
– Kinect Sports
– Kinect Sports: Season Two
– Kinect Sports Rivals
– Rare Replay (– Software-Sammlung)
Erfolg geteilt durch drei … gar nicht grün.