Oder doch bloß Nintendo Selects für 3DS in Amerika.
Als Ende 2013 The Legend of Zelda: A Link between Worlds erschien, lobpreiste jeder Spieler das grandiose 3DS-Spiel aufgrund der spielerischen Kniffe und der fabelhaften Verknüpfung von alten Ideen und neuen Herausforderungen. Dieses heute noch als eines der besten Games für Nintendos 3D-Handheld geltende Spiel erhält gerade wieder etwas überraschende Aufmerksamkeit, da Nintendo sich mit Journalisten auseinandersetzt, die einst Testberichte während des Veröffentlichungszeitraums verfassten. Nun stellt man sich in der Gamer-Gemeinde die Frage: Erscheint A Link between Worlds auf Switch?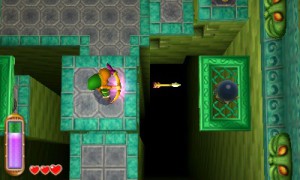 Foto: Nintendo
Kommt A Link between Worlds HD auf Switch – möglich wäre es.

Via Twitter ließ ein Autor seine Gefolgschaft wissen, dass Nintendo aktuell verschiedene Journalisten anschreiben würde, um deren Erlaubnis einzuholen, gewisse Zitate aus deren Zelda-Spieletests zukünftig zu verwerten. Daraus schließen sofort alle Informierten, dass etwas mit A Link between Worlds passieren wird. Entweder könnte Nintendo einen Re-Release planen, da noch keine Nintendo Selects Fassung für den amerikanischen Markt erhältlich ist, oder aber eine Portierung auf die übermäßig erfolgreiche Switch-Konsole befindet sich beim Konsolenhersteller irgendwo in heimlicher Planung. Da es keine Erklärungen für die offizielle Nachfrage seitens Nintendo gäbe, wäre alles nur reine Überlegung, doch grundlos tätigte der Konzern keine derartigen Schritte. In Foren häufen sich daher die Vermutungen, dass sich das erstarkte Big-N trotz der recht großen Verbreitung des 3DS nicht scheuen würde, nun auf dem wachsenden Switch-Sektor erneut auf Kundenfang zu gehen und mit einem vergangenen Qualitätstitel Zelda-Fans für die kommenden Monate etwas zu beruhigen.
Eine einfache Portierung zwecks tieferer Verbindung zweier Welten … zwischen der der Anbieter und Abnehmer.