Another World – Played by Spiele-Maschine.de.
Nachdem schon einige Spielereien in Bild und Ton aufgenommen oder über Twitch.tv gesendet worden sind, geht es in die zweite Runde.
Ein neuer Capture Device und anderes technisches Equipment erlauben fachgerechtes Festhalten live gezockter Videospiele.
Mit Played by Spiele-Maschine.de startet die Let's Play Hausmarke und widmet sich im ersten Schritt Another World in der 20th Anniversary Edition auf WiiU in zwei Teilen.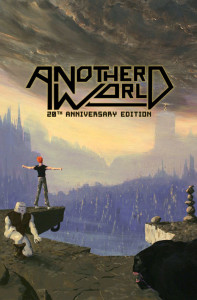 Foto: The Digital Lounge
Durchgespielt mit Kommentaren von mze – Another World.

Der Klassiker Another World/Out of this World aus dem Jahre 1991 bot sich zum Ausprobieren der Game-Capture-Technik an und überzeugte erneut durch Setting, Style und Stimmung.
Die vielen Kopfnüsse waren teils aus dem Gedächtnis verbannt, weshalb manche Situation etwas länger die Gehirnmuskeln anstrengte, als es eingeplant war.
Gute eineinhalb Stunden feinsten 2D-Trial&Errors können jetzt via Youtube auf dem offiziellen Played-by-Spiele-Maschine.de-Kanal mitverfolgt werden. Viel Spaß!
Another World 20th Anniversary Edition auf WiiU
Teil 1 – 2

Teil 2 – 2

Mah-Too-Bah!