Coleco zieht den Stecker.
Die Coleco Chameleon Kampagne ist beendet – bevor sie begonnen hat.
Mit ziemlicher Sicherheit wird keine neue Modul-Konsole in einem Jaguar Gehäuse erscheinen.
Das Team hinter Mike Kennedy erlaubte sich so viele Frechheiten, dass nun sogar die an Board geschwemmte Coleco-Marke das sinkende Schiff verließ.
Coleco zieht den Stecker – übrig bleibt ein verschollenes Chameleon.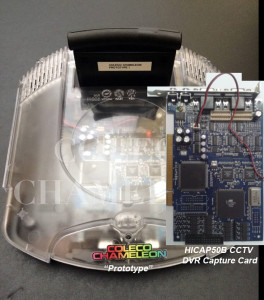 Foto via Atariage.com
Der letzte Versuch zu verarschen – PC-Videocard im Jaguar.

Via Facebook ließ Coleco alle Leser daran teilhaben, wie sich die Partnerschaft mit dem Retro VGS Team entwickelt habe:
"The Update that you were all anxiously awaiting: Retro VGS has decided that the work that they have created is not sufficient to demonstrate at this time. Consequently, we can no longer proceed with the project and the Chameleon project will be terminated. This separation is amicable. We wish them luck in the future. – We thank the gaming community for their continued support, input, vigilance and trust."
Im Klartext heißt dies, dass alle Vermutungen der Spiele-Detektive zutreffend waren und man selbst bei Coleco keine Option mehr sähe, die Zusammenarbeit mit dem Retro VGS Team unter Mike Kennedy bestehen zu lassen. Man wünsche dem Team daher Glück für die Zukunft und trenne sich freundschaftlich.
Da nach dem Skandal auf der der New Yorker Toy Fair erneut versucht wurde – mittels eines Einbaus einer veralteten PC-Videokarte in ein Atari Jaguar Gehäuse – tatsächlich existente Hardware vorzutäuschen, dürfte die Glaubwürdigkeit des Retro VGS Teams auf das niedrigste Niveau gesunken sein, das man in der Videospiel-Branche erreichen kann.
Die verdient eingefangenen Rückschläge haben die Initiatoren jetzt möglicherweise endlich dazu bewegt, die Webseite des Retro VGS sowie den fleißig überwachten Facebook Account komplett von der Bildoberfläche verschwinden zu lassen.
Das Chameleon versteckt sich.