Breath of the Wild vor Wii-Sports.
Seit vergangenen Freitag ist Nintendos siebte Heimkonsole erhältlich. Das Switch-System, das alle daheim gespielten Games auch unterwegs nutzbar macht, soll sich bereits an die Spitze der Verkaufscharts katapultiert haben. Switch erlebt erfolgreichsten Konsolenstart Nintendos, wenn man einer offiziellen Pressemitteilung glauben schenkt.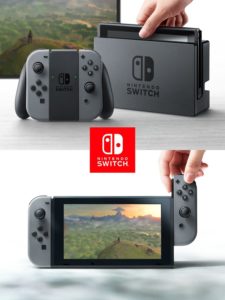 Foto: Nintendo
Der Hype ist real – Switch schon vor den Wii-Start-Zahlen.

So soll sich die Switch-Konsole in ihrem ersten Verkaufswochenende sogar gegen den großen 2006-Hype um die Wii-Maschine behauptet haben können und im Vergleichszeitraum bereits an weitaus mehr Kundschaft vertrieben worden sein. Sogar das extra einzukaufende The Legend of Zelda: Breath of the Wild habe sich zum Switch-Release schon häufiger verkaufen lassen als das in Generation 7 dem Wii-Konsolenpaket beiliegende Wii-Sports.
Damit hat nicht nur der Switch einen rekordverdächtigen Verkaufserfolg zum Start seines elektronischen Lebens, auch die bereits 31 Jahre alte Zelda-Reihe erlebt mit der Veröffentlichung auf dem neuen System ihren Höhepunkt in der Gunst der Gamer. Noch kein anderes Spiel mit Link und Prinzessin Zena konnten einen derartigen Absatz in einem so kurzen Zeitraum generieren.
Dass dieser Erfolg ausgerechnet im März stattfände – einem ansonsten eigentlich ruhigeren Monat der Branche – betont der Hersteller der Soft- und Hardware Nintendo in der kurzen aber prägnanten Pressemitteilung zum Abschluss der erfreulichen Nachricht.
Dass dieser März aber nicht nur allein aufgrund von Zelda und Switch einen ganz besonderen im Business darstellt, dürfte allen spielenden Menschen bereits aufgefallen sein: Generation 8 nimmt endlich an Fahrt auf – während Gen 9 schon erfolgreich antanzt.