Hier spielt die Musik!
Zu einem guten Videospiel gehört in der Regel auch ein vernünftiger Soundtrack. OSTs geben Games einen eigenen Charakter und unterhalten die Ohren während des Zockens. Im Idealfall bietet ein Game eigene Kompositionen, doch auch die Implementierung von regulären Tracks in Videospielen gehört mittlerweile zum guten Ton. Das kommende Basketball-Game von 2K hat sich aus diesem Grund besonders auf den musikalischen Faktor konzentriert und bietet nach eigenen Angaben des Herstellers jetzt eine der größten Musiksammlungen, die jemals für ein Sport-Videospiel zusammengestellt wurde. Wenn das Game im September erscheint, bietet es zwar nur 52 Titel, doch im Laufe der Zeit wird die Bibliothek auf über 200 Musikstücke erweitert. NBA 2K21 lässt Töne raus!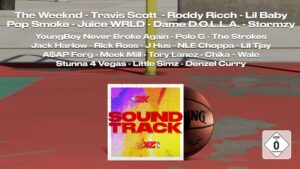 Foto:2K
NBA 2K21 lässt Töne raus – 202 Tracks in einem Spiel.

Eine offizielle Pressemitteilung gibt Auskunft:
"NBA® 2K21 setzt in Zusammenarbeit mit UnitedMasters den neuen Standard für Musik mit seinem In-Game Soundtrack
Der neue Soundtrack stellt erstmals Debut-Tracks vom NBA 2K21-Cover-Athleten Damian Lillard vor und ist eine der größten Musiksammlungen, die jemals für ein Sport Videospiel zusammengestellt wurde.

New York, München – 27. Juli 2020 – 2K gab bekannt, dass NBA® 2K21, der nächste Teil der meistverkauften und am besten bewerteten NBA-Videospiel-Simulationsreihe der vergangenen 19 Jahre*, seinen brandneuen Soundtrack enthüllt. Mit zwei bisher unveröffentlichten Stücken des NBA 2K21-Cover-Athleten Damian 'Dame D.O.L.L.A.' Lillard und Songs von aktuellen Größen Stormzy, Roddy Ricch und The Strokes wurde der Soundtrack von 2K mit größter Sorgfalt zusammengestellt, um mit möglichst vielen kuratierten Musikstücken für eine tiefgehende Spielerfahrung zu sorgen; und ist damit eine der größten Musiksammlungen, die jemals für ein Sport Videospiel zusammengestellt wurde.

"Allein auf dem Cover zu sein, bedeutet mir schon viel, aber auf dem Cover zu sein und auch noch meine eigene Musik ins Spiel einzubringen, das ist ein riesengroßer Erfolg für mich", freut sich Damian Lillard, NBA-Superstar und Cover-Athlet von NBA 2K21 auf den Plattformen der aktuellen Konsolengeneration. "Ich bin persönlich schon auf neue Künstler, Songs und Genres aufmerksam geworden, die ich zwar auch im Radio hätte hören können, jedoch über NBA 2K kennengelernt habe."

NBA 2K21 für die aktuelle Konsolengeneration wird am 4. September mit 52 Songs veröffentlicht, darunter zwei Stücke von Dame D.O.L.L.A., die exklusiv im Spiel vorgestellt werden. Die Fans können sich den Soundtrack schon heute auf Spotify holen. Weitere Songs werden zu NBA 2K21 für die nächste Konsolengeneration hinzugefügt, sodass das Spiel bei Veröffentlichung insgesamt 202 Tracks enthalten wird. Auch nach der Veröffentlichung wird der Soundtrack der Next-Gen-Version laufend um neue Songs aus den Genres Hip-Hop, R&B, Electronic, Pop und Rock erweitert.

"Musik war schon immer ein wichtiger Bestandteil von NBA 2K und wir setzen uns jedes Jahr das Ziel, die Spielerfahrung für unsere Fans zu erweitern", erklärt Alfie Brody, Vice President of Global Marketing bei NBA 2K. "Dieses Jahr erreicht der Soundtrack komplett neue Höhen mit einer von der Technologie der nächsten Generation angetriebenen Tracklist, Damian Lillard als Cover-Athleten, der uns bisher unveröffentlichte Stücke zur Verfügung stellt, alles unter dem NBA 2K21-Motto – Everything is Game."

Die Liste der im diesjährigen Soundtrack enthaltenen Künstler wurde in Form einer Grafik veröffentlicht. Im Laufe des Jahres werden dynamisch weitere Künstler zum Soundtrack der Next-Gen-Version von NBA 2K21 hinzugefügt und so einer der größten Soundtracks aller Zeiten in einem Sport-Videospiel geschaffen.

Das von Visual Concepts entwickelte NBA 2K21 hat für PlayStation®4, Xbox One, Nintendo Switch™, PC und Google Stadia eine Freigabe für alle Altersstufen erhalten. Die Altersfreigabe für NBA 2K21 für PlayStation®5 und Xbox Series X steht noch aus. Weitere Informationen zu NBA 2K21 gibt es unter https://nba.2k.com/.

Für aktuelle Neuigkeiten zu NBA 2K21 können die Fans NBA 2K auf TikTok, Instagram, Twitter, YouTube und Facebook folgen.

2K ist ein Publishing-Label von Take-Two Interactive Software, Inc. (NASDAQ: TTWO).

Für Zugang zu den Online-Funktionen wird ein Online-Konto (13+, variiert) benötigt. Näheres unter www.take2games.com/legal und www.take2games.com/privacy.

***

 

About Take-Two Interactive Software

Headquartered in New York City, Take-Two Interactive Software, Inc. is a leading developer, publisher and marketer of interactive entertainment for consumers around the globe. We develop and publish products through our labels Rockstar Games, 2K, and Private Division, as well as Social Point, a leading developer of mobile games. Our products are designed for console systems and personal computers, including smartphones and tablets, and are delivered through physical retail, digital download, online platforms and cloud streaming services. The Company's common stock is publicly traded on NASDAQ under the symbol TTWO. For more corporate and product information please visit our website at http://www.take2games.com.

 

About 2K

Founded in 2005, 2K develops and publishes global interactive entertainment for console and handheld gaming systems, personal computers and mobile devices, with product availability including physical retail and digital download. The Company is home to many talented development studios, including Visual Concepts, Firaxis Games, Hangar 13, Cat Daddy Games, 31st Union and Cloud Chamber. 2K's portfolio currently includes the renowned BioShock®, Borderlands™, Mafia and XCOM® franchises; NBA® 2K, the global phenomenon and highest rated** annual sports title for the current console generation; the critically acclaimed Sid Meier's Civilization® series; the popular WWE® 2K and WWE® SuperCard franchises, as well as emerging properties NBA® 2K Playgrounds 2, Carnival Games and more. Additional information about 2K and its products may be found at 2k.com.

*Laut 2008 – 2020 Metacritic.com

Alle hier enthaltenen Warenzeichen und Urheberrechte sind Eigentum der jeweiligen Inhaber.

Cautionary Note Regarding Forward-Looking Statements

 

The statements contained herein which are not historical facts are considered forward-looking statements under federal securities laws and may be identified by words such as "anticipates," "believes," "estimates," "expects," "intends," "plans," "potential," "predicts," "projects," "seeks," "will," or words of similar meaning and include, but are not limited to, statements regarding the outlook for the Company's future business and financial performance. Such forward-looking statements are based on the current beliefs of our management as well as assumptions made by and information currently available to them, which are subject to inherent uncertainties, risks and changes in circumstances that are difficult to predict. Actual outcomes and results may vary materially from these forward-looking statements based on a variety of risks and uncertainties including: our dependence on key management and product development personnel, our dependence on our Grand Theft Auto products and our ability to develop other hit titles, the timely release and significant market acceptance of our games, the ability to maintain acceptable pricing levels on our games, and risks associated with international operations. Other important factors and information are contained in the Company's most recent Annual Report on Form 10-K for the fiscal year ended March 31, 2016, including the risks summarized in the section entitled "Risk Factors," and the Company's other periodic filings with the SEC, which can be accessed at www.take2games.com. All forward-looking statements are qualified by these cautionary statements and apply only as of the date they are made. The Company undertakes no obligation to update any forward-looking statement, whether as a result of new information, future events or otherwise."
NBA 2K21 lässt Töne raus!