Videomaterial zeigt alternativen Beginn.
Die MoonStudios haben mit Ori and the Blind Forest eines der hübschesten 2D-Games der vergangenen Zeit veröffentlicht.
Auch spielerisch soll der Titel überzeugen.
Leider wurde das Spiel aufgrund der Xbox-One-Exklusivität bisher von vielen Konsolen-Zockern übersehen. Nun wird an der überarbeiten Version gefeilt und überlegt ein Making of Ori and the Blind Forest als Video-Reihe anzubieten.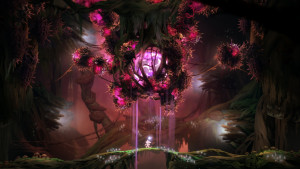 Foto: MoonStudios
Derzeit nur auf Xbox One & PC – bald auch auf 360?!

Thomas Mahler – Mitgründer der  MoonStudios und ebenso Entwickler des zauberhaften Jump'n Runs – meldete sich just über das amerikanische NeoGAF-Forum zu Wort, um den Bedarf nach Veröffentlichung einer Making-Of-Reihe bei den Usern auszuloten.
Da man gerade an der Defintive-Edition von Ori and the Blind Forest werkeln würde, keimte der Gedanke, die unzähligen Materialien die bei der Entstehung angesammelt wurden, in ein Making-Of-Video zu integrieren.
Aus diesem Grund veröffentlichte man auf dem hauseigenen Youtube-Kanal just ein Video, welches einen alternativen Start in die Spielwelt aus Ori and the Blind Forrest offenbart.
In Konzept-Grafik gehalten, wurde von den Designer in dieser Form versucht, einen optimalen Einstieg aus dem Zeichentrickfilm verdächtig ähnelnden Abenteuer herauszukitzeln.
Innerhalb weniger Stunden haben die Mitarbeiter der MoonStudios bereits sieben weitere Konzept-Videos in das Internet entlassen, die sich interessierte Gamer zwecks Wissenswachstums einmal kurz ansehen wollen könnten.
Die Augen öffnen lassen.