Einladungen an Entwickler verschickt.
Google hat schon länger ein gutes Verhältnis zu Videospielen, auch wenn der riesige Konzern bisher nicht selbst in das Business eingestiegen ist. So machte man sich schon mehrfach den Spaß und ließ die Kartenfunktion Google Maps mit unterschiedlichen Größen der Gamingwelt besiedeln. Link aus the Legend of Zelda fand man dort schon und auch die Frau des Geisterfressers Pac-Man wanderte über die Straßen der gesamten Weltkugel. Nun scheint Google jedoch nach sich häufenden Gerüchten ernst machen zu wollen und tatsächlich selbst ins große Geschäft mit den Videospielen einsteigen zu wollen.
Google goes gaming!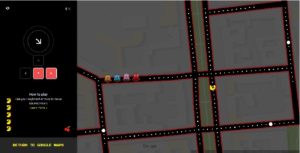 Foto via Google-Maps
Ms. Pac-Man fraß sich durch das Herz der Welt.

Im Sommer des letzten Jahres ließen die freundschaftlichen Entwicklungen zwischen Google und der Game-Engine Unity bereits davon ausgehen, dass sich der Googlekonzern etwas stärker auf das Medium Videogame einzustellen gedenkt. Nun hat man Einladungen zur Games Developers Conference Keynote in San Francisco an Entwickler versendet, die keine großen Informationen enthält, jedoch vermuten lässt, dass man ein Bombe platzen lässt. "Versammelt euch – alles Folgende wird während der Google Keynote präsentiert!" wird via kleinem Gif an alle Empfänger gerichtet, wobei schon durch eine Computeranimation zu sehen ist, dass hier grafische Einbindungen ein Teil der Zukunft darstellen werden.
Google geht einen Gang nach vorne.
Am 19. März 2019 wird das Geheimnis gelüftet werden, doch vielleicht brodeln schon einige Tage vorher die ersten ernst zu nehmenden Gerüchte aus der Gerüchteküche, welche sich zum Verfassen eines weiteren Artikels über die Zukunftspläne Googles eigenen werden.
Der Codname "Yeti" passt daher gut zum bislang nicht gesichteten Gerät, falls der Konzern nicht direkt auf Streamingdienste in seinem Browser abzielt. Ein mysteriöser Schneemensch für alle Zocker steht wohl vor der Tür.