Pfeif dir einen!
Vor zweieinhalb Jahren erschien auf Nintendo Switch und WiiU-Konsolen das lange ersehnte The Legend of Zelda: Breath of the Wild. Auch heute noch gilt dieser besondere Action-Adventure-Titel als eines der besten Spiele aller Zeiten. Spieler entdecken immer noch neue Möglichkeiten und Areale in dem riesigen Open-World-Game, sodass weiterhin keine Langeweile aufkommt, beschäftigt man sich mit diesem Videospiel. Nun wurde über einen User bekannt, wie man den großen Fang macht, ohne sich dabei groß anzustrengen. Fische fangen in The Legend of Zelda: Breath of the Wild ist einfach geworden.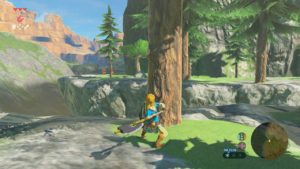 Foto: Nintendo
Zelda für Switch und WiiU ist äußerst beliebt.

Nintendolife.com berichtet über die Erkenntnis eines Zockers, der noch immer mit Breath of the Wild beschäftigt ist. Dieser hat sein Wissen über die Kunst des Fischfangs via Reddit geteilt und damit einige Betrachter seiner Aufnahmen ins Staunen versetzt. Anstatt die Angelrute rauszuholen, stellt sich dieser einfach an den Rand eines Flusses, oder auf schwimmende Kisten innerhalb des Ozeans, um von dort aus seine Pfeifkünste einzusetzen. Da die Fische in diesem Zelda-Game auf Geräusche reagieren und vor diesen fliehen, kann man unter den richtigen Bedingungen dafür sorgen, dass die schwimmenden Viecher einfach von alleine an Land gelangen. Von dort kann man die gestrandeten Kreaturen dann ohne großen Aufwand einfach einsammeln und somit seinen Nahrungsbestand stark auffrischen. Da Seen keine Strände bieten, klappt diese einmalige Fangkunst dort leider nicht. Diese neu vorgestellte Methode funktioniert somit nur an Flüssen und am offenen Meer.
Da selbst die Nutzer der bekannten Webseite in der Regel noch nicht von dieser Möglichkeit wussten, scheint es tatsächlich so, als habe der seine Erkenntnisse teilende User eine wirklich neue Option aufgedeckt, die Zockern nun das Überleben in der Wildnis erleichtern kann.
"Wie kann ich Fische fangen in The Legend of Zelda: Breath of the Wild" – "Pfeif dir einen!"