Eine Serie auf gefährlichen Abwegen.
Die Mafia-Reihe von 2K ist ein Gegenstück zu der wohl beliebtesten Open-World-Serie der Welt. Da man hier auf den nächsten Teil sicherlich noch einige Zeit warten muss, schlägt man aus der Situation Kapital und veröffentlicht alle bisher erschienenen Episoden, um Zockern die Gangster-Saga konkurrenzlos näher zu bringen. Nachdem Mafia III im Oktober 2016 zuletzt über Bildschirme flimmerte, kann nun fast die gesamte Reihe in überarbeiteter Version erneut erlebt werden. 2K kündigt Mafia: Trilogy an!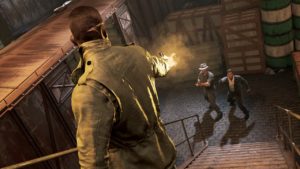 Foto: 2K
2K kündigt Mafia: Trilogy an.

Eine offizielle Pressemitteilung erklärt die Umstände:
"Ein Angebot, das man nicht ablehnen kann: 2K kündigt Mafia: Trilogy an

Mit den Definitive Editions aller drei Mafia-Spiele von 2K und Hangar 13 kann man das Leben eines Gangsters in drei verschiedenen Epochen des organisierten Verbrechens in Amerika nacherleben.

Ein Mafia II-Remaster und die Wiedereinführung von Mafia III sind jetzt verfügbar, das von Grund auf neu aufgebaute originale Mafia kommt am 28. August.

 

New York, München – 19. Mai 2020 – 2K und sein Entwicklerstudio Hangar 13 kündigten heute Mafia: Trilogy an, eine neue Sammlung der einzigen interaktiven Entertainment-Reihe, in der die Spieler das Leben eines Gangsters in drei verschiedenen Epochen des organisierten Verbrechens in Amerika führen können.

 

Zusammen wurden von den begeistert aufgenommenen Mafia-Verbrecherdramen mehr als 18 Millionen Einheiten weltweit verkauft. Jetzt kann man zum ersten Mal auf modernen Konsolen alle drei Kapitel der angesehenen Action-Adventure-Reihe zusammen in der definitiven Saga über das organisierte Verbrechen erleben. Mafia: Trilogy enthält:

Mafia: Definitive Edition – Das von Grund auf neu erstellte Remake des beliebten Klassikers;
Mafia II: Definitive Edition – Ein Ultra-HD-Remaster des bei den Fans beliebten Spiels;
Mafia III: Definitive Edition – Die Wiedereinführung des preiskrönten Story-Meisterwerks.

Spieler, die Mafia: Trilogy digital vor dem 28. August kaufen, haben sofort Zugriff auf Mafia II: Definitive Edition und Mafia III: Definitive Edition auf PlayStation® 4, Xbox One und Steam und können sich Mafia: Definitive Edition herunterladen, sobald es am 28. August erscheint. Die physische Version von Mafia: Trilogy erscheint komplett am 28. August, derzeit ist eine Veröffentlichung nur in ausgewählten Ländern der EMEA- und Asia-Region geplant.

Mafia: Definitive Edition, Mafia II: Definitive Edition und Mafia III: Definition Edition sind auch einzeln erhältlich. Die Definitive Editions von Mafia II und Mafia III sind ab heute als Teil von Mafia: Trilogy und einzeln für Xbox One, PlayStation® 4 und PC via Steam erhältlich, zu einem späteren Zeitpunkt auch im Epic Games Store und auf Stadia. Sowohl Mafia II: Definitive Edition als auch Mafia III: Definitive Edition enthalten alle originalen Bonus-Add-on-Inhalte und für Mafia II komplett neu gemasterte 4K-kompatible Grafik.

Mafia: Definitive Edition – das Herzstück der Sammlung – startet am 28. August als umfassendes, von Grund auf neu aufgebautes Remake des originalen Mafia, komplett mit einem aktualisierten Skript mit reichhaltigen neuen Dialogen, erweiterten Hintergrundgeschichten und zusätzlichen Zwischensequenzen. Dazu kommen brandneue Gameplay-Sequenzen und Features, dieselbe Game-Engine, die auch den grandiosen Filmsequenzen von Mafia III zu Grunde liegt, und weitere Verbesserungen. Es ist das Mafia, an das sich die Spieler erinnern – aber noch viel, viel mehr.

"Das originale Mafia hatte einen immensen und nachhaltigen Einfluss darauf, wie Videospiele ernsthafte Geschichten erzählen können, und wir wissen, dass viele Fans der Reihe es immer noch verehren", so Haden Blackman, Präsident und CCO bei Hangar 13, der die Entwicklung von Mafia: Definitive Edition in den Studiobüros in Brno und Prag in der Tschechischen Republik, in Brighton im Vereinigten Königreich und im kalifornischen Novato leitete. "Fast 20 Jahre nach dem Start der Mafia-Reihe haben wir jetzt die unglaubliche Gelegenheit, dieses geliebte Spiel einer neuen Generation von Spielern vorzustellen und alten Fans die Möglichkeit zu geben, Tommys Geschichte in einer herausragenden, modernen Präsentation, mit neuen Story-Elementen und Gameplay-Features noch einmal zu erleben."

Spieler, die vor dem 28. August Mafia: Definitive Edition vorbestellen – sowie Spieler, die bis dahin die digitale Version von Mafia: Trilogy kaufen oder die physische Version vorbestellen – erhalten den Bonus-Add-on-Inhalt "The Chicago Outfit" für Mafia: Definitive Edition. Dieses Inhaltspaket enthält:

Exklusives Spieler-Outfit: Der Don;
Exklusives Fahrzeug: Smith V12 Limousine;
Exklusiver Waffen-Skin: Gold-Halbautomatik.

Darüber hinaus können sich Spieler für ein 2K-Konto registrieren, um folgende Bonusobjekte für das jeweilige Spiel freizuschalten:

Mafia: Definitive Edition: Black Cats-Motorrad-Pack;
Mafia II: Definitive Edition: Made Man-Pack;
Mafia III: Definitive Edition: Classico-Dreiteiler & IL Duca Revolver.

Alle, die heute schon Mafia II auf Steam besitzen, erhalten Mafia II: Definitive Edition automatisch ohne zusätzliche Kosten. Außerdem werden alle derzeitigen Besitzer von Mafia III auf PlayStation® 4, Xbox One und Steam automatisch und ohne zusätzliche Kosten auf die Mafia III: Definitive Edition aufgewertet. Spieler, die eine Kombination dieser Titel besitzen, erhalten Sonderpreis-Angebote in den spielinternen Menüs der jeweiligen Mafia-Titel, um ihre Trilogie zu vervollständigen.

 

Mafia: Trilogy, Mafia: Definitive Edition, Mafia II: Definitive Edition und Mafia III: Definitive Edition wurden von Hangar 13 entwickelt und haben die Altersfreigabe "Keine Jugendfreigabe gemäß § 14 JuSchG".

Aktuelle Screenshots, Artwork und anderes Material gibt es unter newsroom.2k.com.

Mehr Informationen gibt es unter MafiaGame.com. Wenn man @MafiaGame auf Twitter verfolgt, gibt es Anfang Juni weitere Informationen über Mafia: Definitive Edition.

Online-Konto (13+ je nach Region) für die Online-Funktionen erforderlich. Weitere Details unter www.take2games.com/legal und www.take2games.com/privacy.

Hangar 13 ist ein 2K-Studio. 2K ist ein Publishing-Label von Take-Two Interactive Software, Inc. (NASDAQ: TTWO).

Alle hier enthaltenen Warenzeichen und Handelsnamen sind Eigentum der jeweiligen Inhaber.

About Take-Two Interactive Software

 

Headquartered in New York City, Take-Two Interactive Software, Inc. is a leading developer, publisher and marketer of interactive entertainment for consumers around the globe. We develop and publish products through our labels Rockstar Games, 2K, and Private Division, as well as Social Point, a leading developer of mobile games. Our products are designed for console systems and personal computers, including smartphones and tablets, and are delivered through physical retail, digital download, online platforms and cloud streaming services. The Company's common stock is publicly traded on NASDAQ under the symbol TTWO. For more corporate and product information please visit our website at http://www.take2games.com.

About 2K

 

Founded in 2005, 2K develops and publishes global interactive entertainment for console and handheld gaming systems, personal computers and mobile devices, with product availability including physical retail and digital download. The Company is home to many talented development studios, including Visual Concepts, Firaxis Games, Hangar 13, Cat Daddy Games, 31st Union and Cloud Chamber. 2K's portfolio currently includes the renowned BioShock®, Borderlands™, Mafia and XCOM® franchises; NBA® 2K, the global phenomenon and highest rated* annual sports title for the current console generation; the critically acclaimed Sid Meier's Civilization® series; the popular WWE® 2K and WWE® SuperCard franchises, as well as emerging properties NBA® 2K Playgrounds 2, Carnival Games and more. Additional information about 2K and its products may be found at 2k.com.

*Laut Metacritic.com 2008 – 2020

 

About Hangar 13

Headquartered next to 2K in Novato, California, with offices in Brighton, UK, Prague and Brno, Czech Republic, Hangar 13 is the globally diverse game development studio behind the organized crime drama Mafia III. With a team of world class storytellers and game developers, Hangar 13 aims to use its own proprietary technology to advance the art of player-driven experiences, creating games that will become industry benchmarks.

Cautionary Note Regarding Forward-Looking Statements

The statements contained herein which are not historical facts are considered forward-looking statements under federal securities laws and may be identified by words such as "anticipates," "believes," "estimates," "expects," "intends," "plans," "potential," "predicts," "projects," "seeks," "should," "will," or words of similar meaning and include, but are not limited to, statements regarding the outlook for the Company's future business and financial performance. Such forward-looking statements are based on the current beliefs of our management as well as assumptions made by and information currently available to them, which are subject to inherent uncertainties, risks and changes in circumstances that are difficult to predict. Actual outcomes and results may vary materially from these forward-looking statements based on a variety of risks and uncertainties including: our dependence on key management and product development personnel, our dependence on our Grand Theft Auto products and our ability to develop other hit titles, the timely release and significant market acceptance of our games, the ability to maintain acceptable pricing levels on our games, and risks associated with international operations. Other important factors and information are contained in the Company's most recent Annual Report on Form 10-K, including the risks summarized in the section entitled "Risk Factors," the Company's most recent Quarterly Report on Form 10-Q, and the Company's other periodic filings with the SEC, which can be accessed at www.take2games.com. All forward-looking statements are qualified by these cautionary statements and apply only as of the date they are made. The Company undertakes no obligation to update any forward-looking statement, whether as a result of new information, future events or otherwise."
2K kündigt Mafia: Trilogy an – ein verlockendes Angebot.