Mischkonsum
Der Nintendo 3DS wird auch mit einem Auftritt des Marvel Superstars beehrt, so dass Hosentaschengamer unterwegs den roten Faden nie verlieren mögen.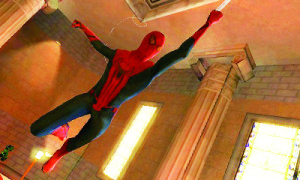 Spider-Man hat hier die gleichen Aufgaben wie seine großen Vorbilder muss sich jedoch mit der Wii Version und dessen abgespeckter Optik zufrieden geben, da die grafischen Ansprüche der HD Geräte die Kapazität eines Moduls und des Handhelds wohl sprengen würden. Leider musste auch die offene Welt von New York komplett gestrichen werden.
Dennoch erwartet die Spinne ein vollwertiges Abenteuer, das mit den HD Versionen fast identisch ist und Kämpfe gegen ein Aufgebot an Gangstern und Superschurken bietet. Alle Hauptmissionen sind daher in sehr ähnlicher Form nacheinander Spielbar, ohne aber durch die freiheitliche Begehbarkeit New Yorks verknüpft zu sein.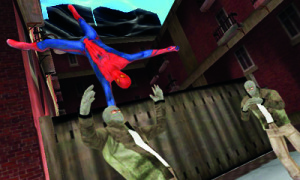 Was die Story betrifft, hatte Dr. Curt Conners einen Virus entwickelt, der eine Mischung aus Mensch und Tier erlaubt. Die Oscorp Corporation nahm sich dessen Forschungen an und natürlich läuft etwas schief. Nun muss Spidey dafür sorgen, dass sich der Virus nicht in Manhattan ausbreitet und arbeitet daher mit dem geläuterten, einarmigen Professor zusammen, um das Schlimmste zu verhindern.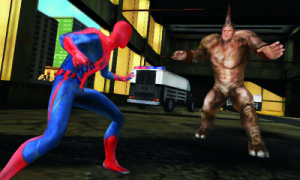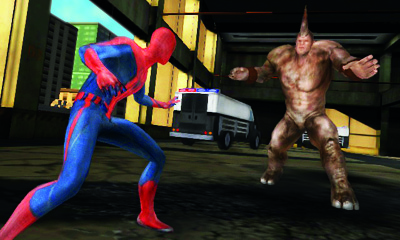 Die Steuerung von The Amazing Spider-Man wurde ansprechend übertragen, der zweite Screen wird für kleine Schalterbetätigungen genutzt. Auf dem 3DS gefällt die Lizenzversoftung einigermaßen, da sich das Team Mühe gegeben hat, den Hochglanzversionen möglichst zu entsprechen. Da die Framerate aber leider öfters einbricht und auf das offene New York komplett verzichtet wurde, findet man auf dem 3DS trotz passendem 3d Look, Sprachausgabe und einem ähnlichen Abenteuer die weniger ansprechende Konsolenversion von The Amazing Spider-Man.
Wer die Wahl hat, holt sich die Spinne mit der HD Heimvariante nachhause. Wer auf seinen Kumpel Spidey unterwegs nicht verzichten kann, kann zugreifen, falls er die Hände gerade frei hat.
Ein Zwitterteil für Spideyfans.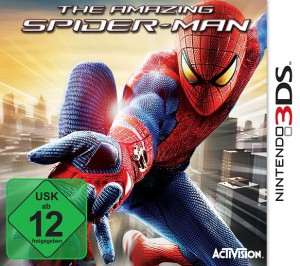 The Amazing Spider-Man
Fotos: Activision
Circa 39€
Usk 12
Nintendo 3DS – ASIN: B006MRK1H2
Nintendo Wii – ASIN: B006MRK15E